The Malaysian Armed Forces (MAF) congratulates Rifle Company Butterworth (RCB) for its 50th anniversary of establishment in Malaysia.
"Your presence and sacrifice here in Malaysian soil in protecting the RMAF Butterworth base during the resurgence of the communist insurgency in 1970-1989 was a remarkable contribution and had always been the highlight of your presence here in Malaysia. Since then, the cooperation and the desire to further develop the friendly relations continue to grow, in preparing for more challenging future ahead."
"May the long historical defence collaboration between MAF and Australia Defence Force will further strengthen and expand beyond the bilateral scope and more importantly under the auspices of the Five Power Defence Arrangements and the Malaysia Australia Joint Defence Program in providing a better future for the subsequent generations." – GENERAL TAN SRI DATO' SRI HJ AFFENDI BIN BUANG RMAF, CHIEF OF DEFENCE FORCE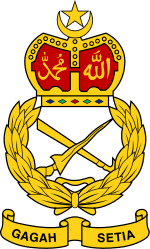 The Malaysian Army's battle against Communist Insurgency in Peninsular Malaysia 1968-1989 is detailed in a book of the same title. It was a Malaysian Government declared War in which 155 security troops were killed and 864 wounded.